Yu. A. Zeleneev, E. M. Pigarev. Selitrennoe Settlement: Archaeological Studies at Bolnichny Bugor in 2014-2016: Monograph. Ministry of Science and Higher Education of the Russian Federation, Federal State Budgetary Educational Institution of Higher Education Mari State University, Academy of Sciences of the Republic of Tatarstan, Institute of Archaeology named after A. Kh. Khalikov. – Yoshkar-Ola: Mari State University Publ., 2021. – 156 p. – (Materials and Studies on the Archaeology of the Volga region; Issue 13).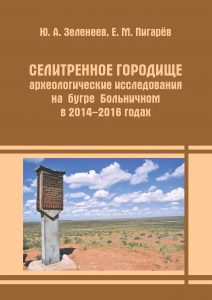 The monograph features the results of archaeological studies at excavation XLVII located at Bolnichny Bugor of Selitrennoe settlement carried out by the Volga Archaeological Expedition of the Mari State University in 2014-2016. As a result of the excavations, the cultural layer in this area of the Golden Horde capital was investigated, and the remains of residential and burial sites of the 14th century were discovered. The book contains statistical tables of excavated material, numismatic and anthropological definitions.
In addition, the work includes a scientific report on the first excavations at Bolnichny Bugor by the expedition headed by A.M. Mandelstam in 1966.
The book is intended for archaeologists, historians, ethnographers, university students and everyone interested in the history of the Golden Horde.