Deputy Director for General Affairs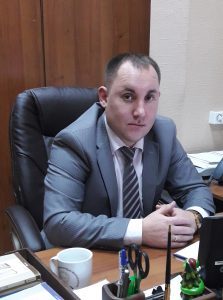 Bulat Faritovich Sultanov
Deputy Director for General Affairs
Born on October 31, 1983 in Kazan.
Education:
2001 – entered the Kazan Law Institute of the Ministry of Internal Affairs of Russia.
2006 – transferred to the extramural form of study at the Academy of Social Education.
2007 – received a diploma of higher education with a speciality in "Jurisprudence".
Professional Activities:
2006 – Senior Specialist of the 1st category at the Department of Investigation of Homicide and Banditry of the Prosecutor's Office of the Republic of Tatarstan
2007 – Major Case Investigator at the Central Interdistrict Investigation Department of the Investigation Department of the Investigative Committee at the Prosecutor's Office of the Russian Federation for the Republic of Tatarstan
2009 – Head of Legal Center for Support of Scientific Developments and Maintenance of Intellectual Property at Kazan National Research Technological University.